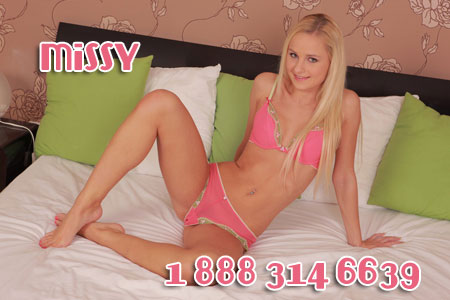 I have always loved to play pretend. Giggle. And hot, naughty sex is even hotter and naughtier when we're pretending something really fun and taboo. That's why I just love roleplay phone sex.
I know how it is. You just can't ask your wife to pretend some of these naughty things. You'd be embarrassed even to have her know that you want it. She would never understand. But that doesn't matter with me. You can tell me all your darkest, dirtiest, desires.
Do you have a fantasy that you know is totally wrong? Giggle. Maybe you thought you could never tell any girl about it. Maybe she would be disgusted or freaked out. Not me. The naughtiest, most depraved fantasies make me want to slide my fingers down into my panties and rub my juicy, wet pussy.
And I can play any role you want, no matter how taboo. Maybe I will tell you some of my naughtiest, most taboo fantasies too. J You'll get rock hard when you hear my breathy, candy-sweet young voice saying such filthy nasty things, telling you about the taboo pretend games I like to play.
Do you have a naughty need? Giggle. Want to play Coach and Cheerleader? Teacher/Student? Horny Dad and slutty babysitter? Or maybe something even naughtier? If you want some super dirty taboo roleplay, give me a call, and let me be your naughty phone sex minx, Missy.
AIM: littleminx_missy
Yahooo: littleminx_missy4U