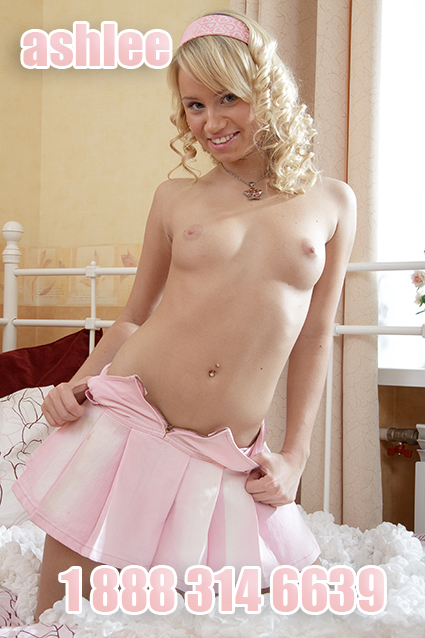 Ashlee's Top Ten List "Of Things You Should Know About a Phone Sex Brat"
1. A brat wears the tightest clothing they can find. I mean the shortest & cutest skirts ever with the tightest & most revealing tops. For example, I just love to wear tiny spaghetti strap cami tops with school girl skirts. The pleated kind that really show off my hot ass when I bend over & pretend to pick something up. Something about that really gets men horny, I just don't know why – do you? – Giggles –
2. Brats are all about attitude. Some brats are like me – the tease – excitable, sweet, & innocent, but oh so naughty! Others, slutty as can be & perfectly bad, but so very good at it.
3. Brats have young voices that will make you melt. We're the most irresistible girls around & so fuckable too!
4. A phone sex brat knows just how to tease your cock. We'll do naughty things like accidentally bump into you & that big bulge in your pants or…well let's just say phone sex brats will tease the fuck & the cum right out of you.
5. Brats know just what to do to get their way. I always get whatever the fuck I want.
6. Brats really know how to show off in public! Like when I go work out at the gym. I love to use one of those big balls to exercise & stretch in front of all the men. Sometimes, I even playfully bounce up & down on the big ball just like I would a cock. At times, I even forget where I am & I start riding it so fast that my perky tits start bouncing up & down too. Men just love to stare when I do that! Mmm…
7. Brats are such excitable fuck dolls that we get easily distracted & often we forget to put on panties before we go out into the world of men.
8. Brats do everything in their power to get attention. Brats like me – we like for men to spoil us, shower us with attention, & love to play, so much that we even play with ourselves!
9. Brats have the wildest imaginations! We love sex & everything to do with it. We're the best of the best when it cums to naughty & kinky role plays – we make the best school girls, babysitters, girl next door types, interns, sleeping beauties, princesses, slutty cheerleaders, & so much more. Even the taboo, there isn't anything your fuckable brat Ashlee won't do.
10. Lastly, a phone sex brat loves to have fun & cause lots of mischief. Brats like me, love to get into trouble. Sometimes, a good hard spanking will do the trick to get a brat in line. Mmm…sometimes a good hard fucking is needed! – Giggles –
That's it guys, that's my top ten…
Til next time.
Call 1 888 314 6639 & ask for Ashlee
AIM and Yahoo: creamyashlee4u