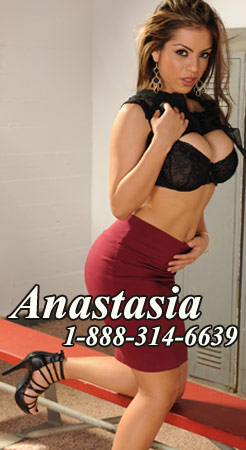 Hi guys! I'm Anastasia and I'm brand new here to the Academy and to doing phone sex roleplay for a job. You know I've done phone with boyfriends and I have to admit for fun with guys I met online. I love to sit at home in my panties and lil crop tee and play with my tight horny pussy while I talk to you on the phone. I get so excited to try out all the different taboo roleplays and fantasies that you guys have. I'm a twisted and very dirty girl so you can tell me anything, and I mean anything at all. You know those thoughts you have when you're alone jerking off that you would just die if someone found out? I'm the girl you can tell and I promise you that I won't ever judge, but I'll probably be getting off on it with you.
I really did fuck my way thru school and I've already earned an A in both my classes this semester. My one professor loves me to dress up as his naughty schoolgirl and bend me over his desk after everyone is gone. I can't stop squirming as he sees the wet spot in my tight white panties."I know I deserve a spanking, Sir, but please, if you would fuck my ass instead?" He has me pull my panties down mid thigh and spread my legs. By the time he has me spreading my cute butt cheeks to show him my starhole, my juices are dripping down my thighs. I explode when he starts to pound his sluttiest student's asshole.
This is just one of the phone sex roleplay calls we can do. What if you're the submissive teacher and I blackmail you into kissing my ass, wearing panties for me and maybe even eating my freshly fucked cream pie pussy? All these different schoolgirl fantasies and I can't stop sliding my fingers in my panties!
If there's a roleplay you want to talk about before you call, you can email me fetishgirlanastasia@gmail.com or message me on AIM – fetishgirlanastasia
Call me for some phone sex roleplay at 1-888-314-6639