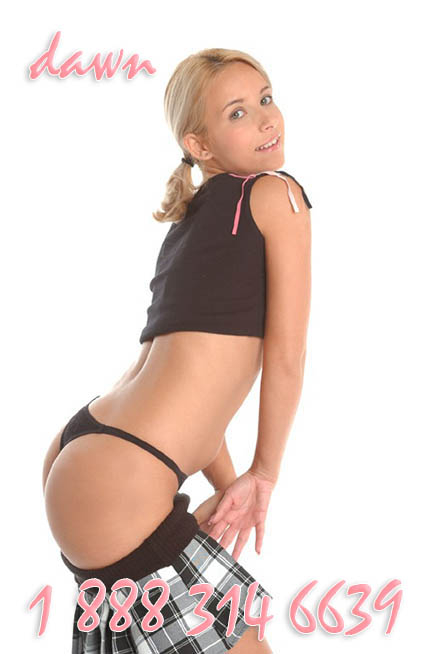 My name is Princess Dawn and if there is one thing you need to commit to memory, it's just that! I know you'll have no trouble remembering that because you're going to become addicted to me in a way that you'll never be able to fully understand. You're going to become addicted to giving me any and everything you have once you start calling me and make me your phone sex princess. Yep, that's right, I'm just that great!
So get on your fucking knees right now to  worship my entire body. Kiss my ass, hell why don't I bend over right in your face so you can lick my ass. Tastes so good doesn't it? Do exactly as I say because If I don't get exactly what I want, when and how I want it well, you will see me on the floor kicking, screaming and blubbering like a spoiled rotten, bratty princess. Calls with me are exactly what you want. You've been wanting a barely legal, pretty phone sex princess to worship.
Let me make this clear, It doesn't matter where you are when I need or want something. Do you understand? I expect you to open your wallet to buy me whatever I desire. If I message you because I need something you better drop whatever you have going on to take care of my every need. You are going to worship the ground I walk on.  I thrive on control baby, so stop staring at my naughty pics from my site, wipe up your fucking drool and pick up your damn phone already!  Seriously, you don't know what this princess can do! I'm always being told how addictive I am. You will be amazed at how often you think about me and how you can't resist calling me.
Call 1 888 314 6639 and ask for Dawn for princess phone sex
AIM: DarlingLilDawn4U
Yahoo: DarlingLilDawn