Hey guys, it's me Madison, and I am here to tell you something awesome! I got a hot tub under my deck, and OMG the orgasms I can have with it is insane!! I got to thinking I could prob take a few phone sex calls in there and show you just what kind of orgasms I have. Is that something you'd be interested in? If so, speak up, give me a call and tell me so we can set something up, hehe.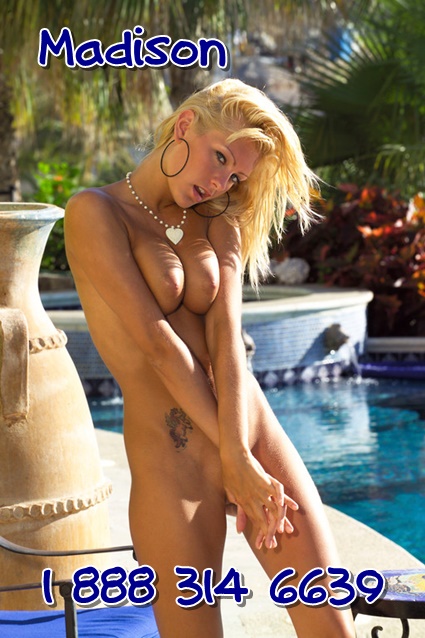 Have you ever had phone sex in a pool or hot tub before? I had a really hot steamy phone sex call two years ago in a jet soaker tub. I had a vibrator that was waterproof too (sadly I think I burned the motor on that one, lol) and have been wishing for a new one ever since. I would bend back against the jets with the vibrator in either my pussy or my ass and I would cum so hard on the phone. Surprised I managed to keep the phone from getting wet (it is NOT waterproof, ha!). Only thing better would have been if I had company in the tub with me. Don't get me wrong, I LOVE vibrators, but a girls gotta get real dick too. A girl like me, I love to make dicks cum, and cum hard they do… trust me 🙂
You can have me wet or dry, clothed or completely naked, on my bed or perhaps YOUR bed? Phone sex calls with a girl like me is full of options cause I don't say "NO" very often. Doesn't matter how kinky your phonesex fantasy is or even how forbidden it is, because I do it all. I don't want to be stuck up like some of your girlfriends are, know what I mean? I want to keep an open mind and please you the best way I know how. If you are not a good phone fuck, I will tell you, and then I'll be the one in charge and YOU will be the one to please me, and possibly others. Oh yes, I do pimp out the good ones, lol. Sharing is caring, and as the saying goes, "The more the merrier".
What are you in the mood for phone sex wise, something kinky or shall I surprise you? I am ready to please or be pleased, call me, let's get the phone sex party started! Ask for Madison!