Are you tired of the same old routine? Need a little spice in your life? You're looking for Phone Sex with Shelby!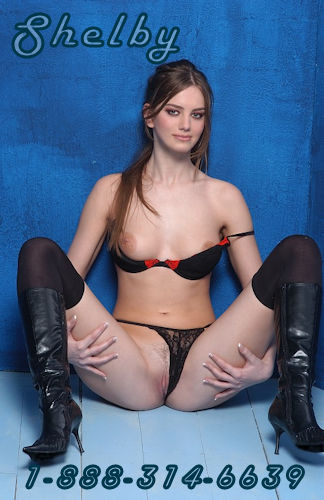 I'm all sugar and spice and everything nice, so if you've got a sexual sweet tooth or if you like it hot enough to make you sweat, give me a call. I love to play and we can phone fuck so good you'll get off like a king and sleep like a baby.
I'm young, I want to have fun, and I'd love for you to join me. Maybe you can teach me something new, or maybe I'll teach you how to purr like a kitten while I describe in graphic, glorious detail all the terribly naughty things I can do with my mouth – then again, it's hard to talk with my mouth full.
I'm young, I'm hot, I'm fearless, and I've got the best legs you'll ever wish were wrapped around you. I'm your total phone sex experience and trust me when I say you will be satisfied.
I'll tell you how much I'd love to blow your mind or any other part of your body you feel needs my express attention. Or maybe you want to be the doer, and come lay down between my silky soft legs so you can worship my wonderful, young, tight pussy.
Feel free to touch, but always remember it melts in your mouth, not your hand.
If you're still wondering why you should give me a call, just take a moment, stare at my picture, and then realize I'm the most fun you're going to have this week. Go ahead and treat yourself. You know you deserve it, and I will make it worth your while.
Call 1-888-31-HONEY and ask for Shelby for a fresh phone sex experience.
Yahoo IM: SexyShelby_4u
AIM: Sexyshelby4u