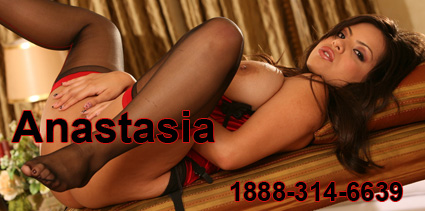 Tired of phone sex girls who want to tell you what to do? Are you a Dominant in need of submissive girl for submissive phone sex? I am a switch in my real life and my first taste of BDSM was as a submissive slut to a strong and demanding Dom man. I can't help but go back to that time when I'm at my very horniest. Tie me up, tie me down and have your way with me. Your pleasure is all I need for my pussy to get soaking wet. Tease me and I'll please you. Use me as your personal sex toy and if you let me, I'll cum again and again. I'm not so good at holding back though, so you might even have to punish me when I cum without your permission.
When I hear you call me your bitch and whore and dirty slut, when you pull my hair and spank my ass, I know that you really care. Use my mouth and throat, it doesn't matter if I'm gagging on your cock, if you want me to take every inch I will. Cum in my face or make me lick it off the floor. Make me get up on my hands and knees, legs spread, cunt and asshole open for your pleasure. Listen to me beg and plead for your cock and your cum. Whatever you want, this submissive slut is here to make you and your cock happy.
Call me for submissive phone sex and tell me what to do. Sit back with your phone and this girl will tell you in all the details how I'll worship your body with my tongue, from your toes to your ass your cock your balls and anywhere else you desire. Call me names, humiliate me, spank me, use me for your sick twisted fantasies. I'm a no limits kinda girl, so whatever submissive roleplay you have you in mind, I'll do it.
Call 1-888-314-6639 and ask for Anastasia, your submissive phone sex girl.