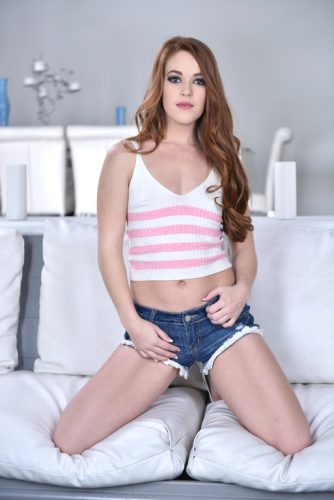 I'm Kimber and I'm just dripping wet to tell you all my dirty little secrets! For starters, I'm an 18 year old pansexual princess with a sweet young voice and a playful disposition but don't be fooled! I may be flirty and charming, but I'm also *VERY* kinky. You're already imaging what my baby doll face would look like with your come sprayed all over it, aren't you? *giggles*
I sure hope you like dirty phone sex with sassy flat-chested minxes because I love hearing the phone ring! It gives me butterflies in my tummy and makes my pussy tingle with excitement. Each time the phone rings, it's like a shiny brand new opportunity for steamy sex talk with a stranger. What's better than hot sex with someone new? It won't take long before I'm pumping my fingers into my sweet and smooth pussy while you listen. So come stroke your cock for me or rub your wet slit and share your wildest fantasies to me. I love hearing your heavy breathing and the sounds you make right when you come. Mmmm!
I can be your bratty phone sex princess or I can be your demure sweetheart to defile. The choice is yours, because I very much like to switch it up. I would absolutely love to be your slutty fuck doll or your spoiled phone princess. I adore sex & age games, role-plays, and forbidden taboo talk. Let your imagination run wild and watch me bring all your fantasies to life right before your eyes!
Imagine me as your dangerously seductive babysitter. "Shhh, just let me take care of you. Your wife will never know as long as you promise not to tell my Daddy. It'll be our secret!" *giggles* I'm already getting tingles thinking about being your irresistible side piece. My oh my, things can really get out of control with me sometimes. I'm so addictive you will be fucking me with your wife asleep in the next room!
Or imagine me as your bratty cheerleader neighbor and you just can't resist sneaking over to my place for a sniff of my worn 18 teen panties. "Tsk tsk! You're so very nasty, mister. I can't wait to tell my parents what a pervert you are unless you do exactly what I want!" Of course now you'll be thinking, "To what end?" but I have so many punishment options for a bad boy like you! Fire-crotch face sitting and ass worship and/or foot servitude, or I can force you to be my personal sugar daddy chauffeur that takes my friends and I to the mall every weekend, or I could dress you up in the panties you were sniffing and parade you in front of the entire cheerleading squad.
Need more dirty phone sex ideas from your sweet little Kimber?: school girl tease, slutty step anything, forbidden fruit, cheerleader cream pies, SPH giggle fits over tiny dicks, anything anal, girl-next-door but more like whore-next-door, CEI, sugar baby, voyeurism vixen, bare foot fetish with toe sucking, kitten and pup play, 18 teen street hooker, age play, panty boys, sissies, ABDL, orgasm denial, 2 girl calls, group sex, and so much more.
wishlist