Gosh, I'm really in the mood for bratty domme phone sex. I think you all know by now that I'm not super submissive (although I can be for the right man) and that I love getting what I want and telling horny men what to do. And honestly, I really never know what I am going to be in the mood for when you call.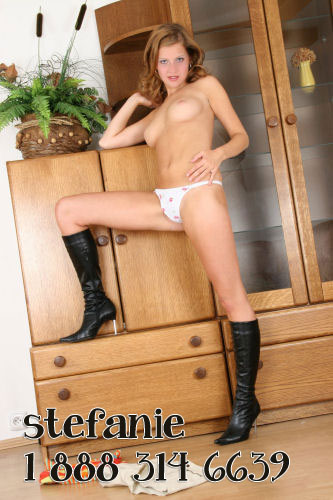 Sometimes I might want to humiliate you because you have a tiny dick. I mean, it's really small and I don't know that you can even call it a dick. It's more like a clit that's slightly larger than a woman's normally is. Actually, it is a pretty safe bet that I will always want to humiliate you. How could I not laugh at something as small as that?
But I'm not going to stop by just laughing at your tiny cock. If you're going to have a clit, then why don't I just get you all dressed up like a woman? Oh yes, there is some feminization in your future, for sure. You can get dressed up in panties, a bra, stockings, and maybe even a tight little dress and heels to make you feel really feminine. Oh, and the things you're going to have to learn to do after getting dressed up? Well, I'll tell you more about that when you call me.
And if you don't like this humiliation fantasy, well you can just tell me what other thing you like that falls under the category of bratty domme phone sex. I am positive that we can find something that will tickle your fancy and enable me to laugh at you at the same time.
Just call me at 1 888 314 6639 and ask to talk to Stefanie for bratty domme phone sex fun today!