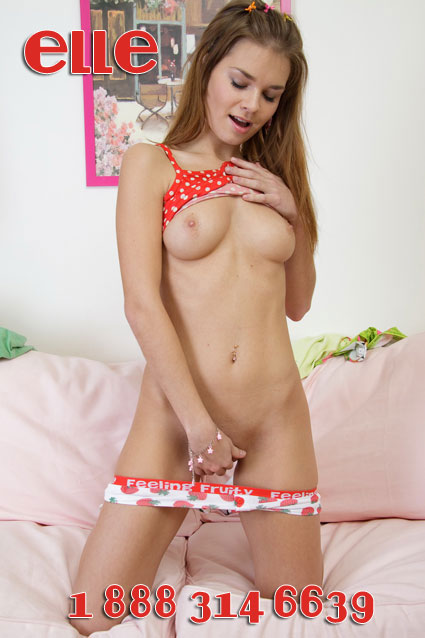 Oh my gosh. I didn't even see you standing there. Sorry if you saw anything naughty. *giggles* I'm running late for cheer practice and changing in the car is just part of being a cheerleader. So do I look okay? I can't see much in the rear view mirror. Is my skirt on straight? Its so short. Can you see under it? A little bit huh. Oh well, what's a girl going to do. We get the uniforms we get. *smiles* You should come watch practice and maybe we can hang out after. You can let me know how my splits look. *giggles* If I'm getting my legs spread wide enough. And then maybe we can have some fun playing tease and denial phone sex. Be sure and watch my jumps and leg kicks. I can kick my leg higher than any body else on the cheer squad. *giggles*
So did you like watching me jump and bounce and flip around in my short skirt? *giggles* Oh don't deny it, I saw how you were looking at me. I'll let you walk me back to my sorority house. We have a great backyard with some private make out spots. *giggles* If you are good maybe I'll show you. First I want to just get real close and maybe run my hand between your legs, see what you have to offer. *giggles* Mmm, feels nice and yummy. And big too. Come back here with me, where no one will disturb us. Wanna make out? Kiss me. You can feel my tits while we make out. *giggles* Maybe I'll even sit in your lap and dry hump your throbbing cock for a minute. Or two. As long as it takes to get you revved up and really excited. I want your tongue down my throat and your fingers digging into my ass as you rub you hard cock against my pussy, through our clothes. When you try to undo your pants I'll giggle and pull your hand away, putting it on my tit while I rub my body against yours. Mmmm it feels so good, you can't deny that. But you want more. You want your cock free, but you can't get me off your lap enough to let it out. I'll drive you mad while I giggle and tease you. Kissing and dry humping and petting you.
You'll want my pussy so much that your fingers will pry at the edge of my panties, sliding under and rubbing against my soft slit. You'll find me wet and juicy and so tight. And warm. Soooo warm. Hot even. Just putting your finger in my pussy will make your dick jump in your pants, desperate to get out. And then into me. *giggles* Beg me, plead. Cry. Curse. Crush me to you and kiss me hard and tell me you must have me. I'll bit my lip and smile and lean close to seal the deal with a kiss first. But instead I just giggle in your face and whisper, "Nooooo." I can't wait to see your face turn red with frustration as you try to devour me with kisses and rub yourself against me as much as you can. I'll tease you until I break you and then maybe, if you beg just right, maybe I'll give in. We'll see if you are man enough to get your throbbing cock inside my tight teasing pussy. *giggles* Just thinking about tease and denial phone sex has my pussy wet and wanting you wanting me.
Call 1 888 314 6639 and ask for Elle
Yahoo: BrattyElle
AIM: Bratty_Elle