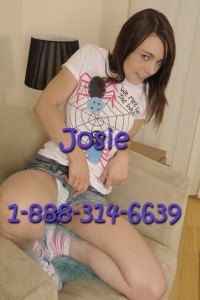 Soooo I want you to imagine something for, k? This is an awesome roleplay set-up, and you guys need to hear it.
Hmm…let's say it's a babysitter thing. You hired a babysitter for your family. They wont be home till around 7 pm, so you asked her to come at 8. That means you'll have two glorious hours alone after you get home from work at 5. So naturally, you decide to spend it fapping.
It's 6:00, and you're wearing your white panties with the pink and yellow flowers all over them, like any panty boy phone sex loser would do.
You're so caught up in what you're doing that you don't hear the knock on the door or the footsteps coming in the house. And suddenly, your babysitter pops her head into your bedroom, two hours earlier.
And she seems a lot less surprised to see you standing there with a hard-on in a pair of panties than you would've thought she'd be. I mean, yeah, she's shocked, but she recovers from it way faster than you do.
You stutter around ask her (me) what she's doing here. I can't help but giggle when I say that I thought you wanted me at 6, rather than 8.
You're embarrassed, and I'm amused. But I notice that your dick hasn't gone down in your panties one bit. Well, *that's* interesting.
So it turns out that we've got an hour alone. I think we should use it productively. That's why you need to call me for some panty boy phone sex and tell me what you think is gonna happen next.
Josie 1-888-314-6639