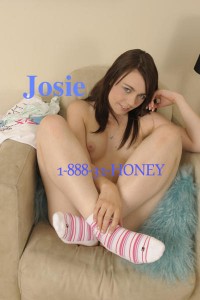 Soooo…you're a sub, right? You're one of those dudes who just LOVES being told what to do. That kinda thing just gets you off in ways that nothing else can.
But on the other hand, you don't want to serve a scary old woman or one of those stereotype whip-swinging Femdom women or whatever. You want to serve a beautiful younger girl who knows what she wants and knows exactly how to get it. So what you need, obviously, is bratty domme phone sex with a hot Princess like me! Obviously.
See, I'm used to getting everything I want cause I've got the kinda personality that just makes people wanna please me, no matter what! And I guess maybe it's sorta turned me into a bit of a brat lol. So that's probably influenced how I take control of guys like you and have you do the things I want you to do for me.
And what kinda things do I like making you do for me? I'm so glad you asked. There are tons of things I can do with you, but I really, really like making you worship my feet, cuckolding you, laughing at your itty-bitty cock, and fucking you with my huge strap on! Not necessarily all in the same bratty domme phone sex call, though. I gotta save something to look forward to next time!
So after hearing all that, do you wanna play? If you do, then call me!
Josie 1-888-31-HONEY
cdnprincessjosie on aim
playfulprincessjosie on yahoo