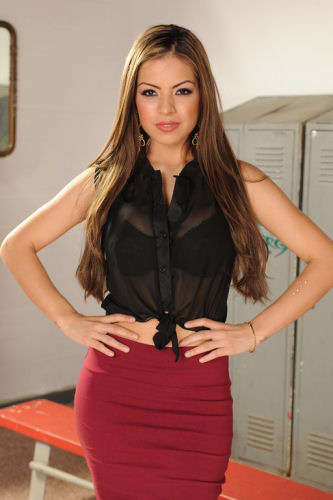 Hi guys! I'm Anastasia, just turned 21 college girl now living in Las Vegas! OMG it's so crazy here, parties, guys, and non stop sex! Right after I moved here I met up with some hot as fuck older guy who has really shown me around. I love to dress up like a hot young slut and tease all the guys at the clubs. I'm not always a tease though, I'll get on my knees and suck a dick for tix to the best concerts and VIP rooms at the clubs. A lot of girls call me a whore and a slut but I don't care, I'm having the time of my life and getting all the sex I want.
I can tell you how I fucked my way to all A's in high school and it works here at college too! I can't tell you how many professors have fucked my sweet young pussy and ass. I don't mind giving it up to get what I want. It wasn't just the men either, I'm a bisexual lil slut and I love eating pussy too. I had this hot blonde TA last year who did all my papers for me if I let her fuck me with her strap-on once a week. How could I pass up that deal?!
As you can tell I am a horny slut and I have no problems using my assets to get what I want. I love to be shown off and get off on public sex and display. I love guys with a foot fetish or any kind of fetish really. I get off on all the pervy taboo stuff that a lot of other girls won't talk about. Blasphemy, humiliation, accomplice, forced fantasies and more dirty taboo I can't talk about here.
I have experience Dominating guys too, especially little dick loser boys. A girl like me only lets the biggest and best cocks in her special holes. Yeah I'm a size queen and I'm proud of it. I'm into CBT and love to hurt your balls and control your cock. Tease and Denial, Guided Masturbation, cum eating, JOI, edgin, Cuckold phone sex fantasies, all kinds of roleplay and more. Naughty babysitter, Teacher student, any younger girl older guy fantasy is so fucking hot to me.
Cum to me and tell me all your kinky and taboo fetish phone sex fantasies so we can play them on the phone. Call your personal cock slut Anastasia. What are you waiting for?
blog
twitter