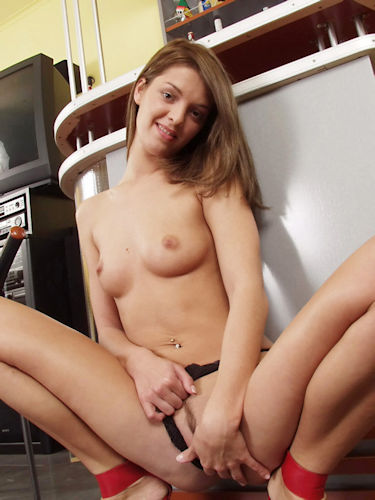 Ya my name is Charlotte. I'm young, sweet, addicting and oh so yummy!
As you can tell from my picture I'm a pretty tiny girl weighing only about 95 pounds. I'm so cute and so perfectly petite for you, just the way you like it. I just know you're going to fall in the love with my tiny little self and oh let's not forget the cute and adorable voice I have.
Even though I am young, I have always had this desire to make men feel good. Ever since I can remember I've been one horny girl. I have always had the urge to touch myself. It started when I would take a bath. There was something about the way the hot water felt dripping down my soft skin that made me feel so relaxed and then when it came to washing my perfect pink pussy well… it just felt so good that I did not want to stop!
So, yes my naughty ventures started off in the bathroom but then I would get into so much trouble for taking too long in there that I had to begin exploring myself in my bedroom. That is where my world exploded. I began using my fingers, teaching myself how to cum and then before I knew it I was addicted to touching myself. I learned very quickly that I am a squirter. My daily obsession to make myself squirt took over my life. Squirting is also something I noticed that all the guys love *Giggles* They love my juices dripping all over their hard cocks.
You see, the older I got I learned to use my tiny little body to get everything I want. Funny thing is, I get a lot of attention from my teachers! This one teacher asks me to stay after for extra credit all the time and since school is important I always take him up on his offer. I let him touch me all over, take pics of me and dress me up. He buys me the sexiest panties. I'm always sure to keep our secret between us because he is married and it wouldn't be good for him if she found out.
I love sharing my naughty experiences with other people. I love kinky and taboo phone sex. I get to be as nasty as I want to be with as many guys as I want. Cum play with me, anything goes!
~Charlotte
blog
wishlist