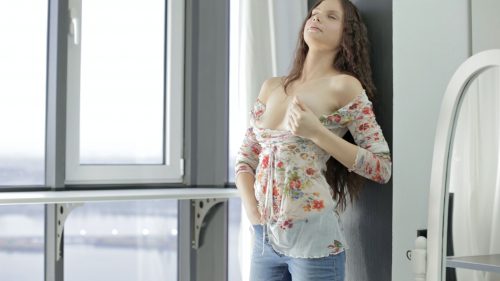 Hi there! My name is Corrine, it rhymes with teen! <3 hehe I just turned 18, and I love being a submissive little slut who does whatever my master tells me to. I'm your hippie baby, who's voice drives your body so insane you trip.. and drip! I have a very tiny, cute pussy, and you can see my itty bitty lips poking out yearning for you to spread them. My pussy stays shaved and silky smooth! I am literally always horny, and I need your cock against this tasty kitty! I keep my toys in my bedside drawer, ready for all the fun we're gonna have! I have absolutely no taboos! I love all things kinky, risky, and downright bizarre things that turn you on. Don't worry though… if you like more of a vanilla gfe kind of fantasy, that makes me dripping wet, too!
It really makes me wet being someone's cumslut or pain doll. I am ready for all your dominant wants, and needs to be in my ear so I can satisfy you with my perky little titties, voice that will leave you wanting more, and my tight, hungry, young teen cunt!
I squeal, I choke, I spit, I suck. I'll lick you clean, and I'll beg you for more.  I'll bend over, spread my cheeks, take your huge cock, and squeal for you to cum anywhere you want! Your cum is white, creamy gold and I want it either in my holes or on my body.
Just so you know, seeing my small body covered in jizz will drive your dick nuts. I want you to be my master, and I'll be your slave. You can be a bit rough with me, slap me in the face with your cock or shove me down on it and let me take it… Please let me, Corrine, be your new little pet, I'm just your princess that hasn't been broken in yet…
blog
twitter