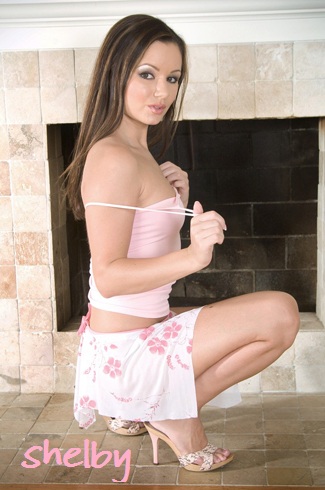 My callers know how dirty and nasty I am when we are having freaky taboo phone sex, but on the outside I look like a sweet well-behaved good girl.  Even though I wear my mini skirts and tight little tops to class, my professors at school would never suspect what a little slut I am.  My English professor, however, now knows my naughty secret.  English was my one class this semester that I was worried I was not going to do well in.  I do like getting straight A's, of course.  For our final exam, we had to write a thesis paper on a topic of our choice.  I procrastinated getting started on the paper and on the night before it was due, I stayed up way too late having phone sex with you sexy gentlemen.  I overslept on the morning the paper was due and I didn't even have the first page completed.
In a panic, I began to get dressed, pulling on my tightest little black mini-skirt, my pink lacy panties and bra, my thigh high black socks, and a tight little pink fuzzy cardigan.  I looked in the mirror and I knew I looked like a bad little slut, one who should probably be spanked for being so naughty.  I drove over to the school, hoping that I could still catch my English professor in his office before he left for the day.  His office door was cracked and I could see him inside sitting at his desk grading papers.  I knocked softly and he told me to come in.  He gave me a stern and scolding look at first, but then I caught his eyes travelling down my body across my smooth creamy thighs and my perky titties.  I stepped into his office and shut the door.
"Shelby, I'm going to have to give you an F for the semester because you did not complete your final exam paper," he said. "Please Professor Adams," I told him, "Isn't there an extra assignment you could give me?  I've made all A's this semester and if I fail your class, it's going to ruin my GPA!"
I saw him start to smile, and he said, "Well…we might be able to arrange a few extra assignments for you."
"Anything Professor," I said, "I will do anything you assign me to do."
"Anything?" he said, raising his eyebrows.
"Yes, anything!"  I said, giving him my best innocent schoolgirl look.
"Get down on your knees," he told me, "I want to hear you beg me."
Obediently, I got down on my knees in front of him and began to plead, "Please, please, please don't fail me in your class!  I'll do anything you want, Professor, anything!"
He unzipped his pants and his huge hard cock was standing straight up, throbbing, and he grabbed my head and pulled my mouth towards it.  "Here's your first assignment," he whispered, "Let me feel your mouth on this cock."
Call me and we can have dirty schoolgirl phone sex together.  I promise you I'll be a good girl for you, and I'll tell you all about the extra assignments my professor gave me.  One thing's for sure…I will be getting an A in English this semester.
xoxo
Your Naughty Schoolgirl Slut Shelby
1-888-314-6639
Yahoo: ShelbySucksIt69
AIM: ShelbySucksItX