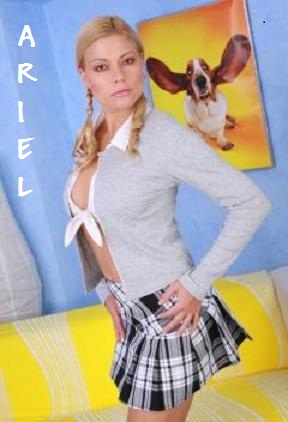 Priscilla and I, in our first year of college together, were in the library researching for our mid-term report on Human Behavior class. She was dressed rather slutty today, I thought to myself. I couldn't focus on the books in front of me; all I could think about is licking her bosom that popped out over her tightly buttoned white blouse. She knelt on the floor with calves tucked under her round, perky bottom, and her teensy black plaid skirt exposed that delicious little ass of hers. She was deep in thought while reading a chapter; meanwhile, I could not stop myself. I licked and lubricated my fingers and then sneakingly, I reached for her bum, pushing the panties aside, my fingers instinctively located her tight, taught assbud as I began to massage it gently. At first, she was taken by surprise, but I could tell by her quiet, suppressed moans that she was submitting to my naughty actions. Without any words, I gently gestured her to raise her bottom up while kneeling on all four. There before me was Priscilla's juicy pussy dripping with anticipation, and her cute, luscious puckerhole waiting for my tongue to wash over all of it. I hungrily lapped at her cunny and pooter as if I haven't had a delicious meal in so long. I was so inebriated off her juices, that I never heard him coming.
Standing before Priscilla and I was Mr. Johnson, our Human Behavior class teacher! He was a tall, strong man, somewhere in his early 50s. Both of us girls stared up at him with humiliation in our eyes; I was so shocked that I forgot to remove my tongue from Priscilla's crevice. Mr. Johnson placed his finger to his lips and whispered a quiet, "Shush." He looked around to confirm no one else was nearby, and then slowly he unbuttoned his slacks, took out his heavy cock, and then pressed it against Priscilla's pouty pink lips. We've never thought about Mr. Johnson this way, but I would be lying if I didn't admit to getting more aroused. Priscilla obediently sucked on Mr. Johnson's cock, while I greedily ate her ass and twat. We could tell that our teacher was very close to cumming, because his grunts got louder as he thrust his cock deeper down Priscilla's throat. Suddenly, Mr. Johnson grabbed me by my hair, sternly commanding me to, "Open your mouth, you little dirty whore!", yanked his swollen tool out of Priscilla and shot his entire hot creamy load straight into my mouth. Like a good girl and an obedient student, I swallowed it all just like Mr. Johnson would expect from me. Without any words, Mr. Johnson returned to Priscilla's mouth where she instinctively knew to suck out all remaining jizz.
Coed phone sex is so naughty and taboo; I can't help but to start rubbing my yummy little snatch every time I think about my teacher taking advantage of sweet, innocent me. Will you call me for teacher-student phone sex and be my mentor? 🙂
1-888-47-HORNY (1-888-474-6769) and ask for your misbehaving student, Ariel.
AIM & Yahoo: NaughtyAriel4U