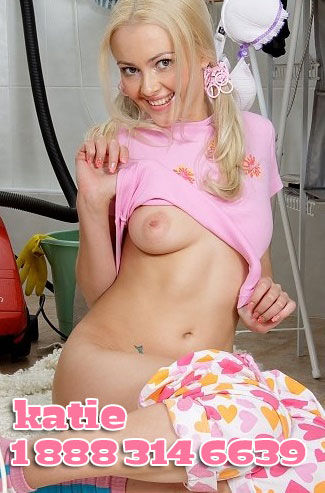 Who did you want to be when you grew up? In the world of make believe and fantasies, I can be anyone and everyone I want when we have roleplay phone sex. Isn't that cool? I can be that superstar you always wanted to fuck, or even that girl that lives next door. Your wife doesn't even know that you watch her, does she? I bet she would be pissed to know that when you're in bed with her, the only way that you can get off is to think of someone else. Tsk tsk. I won't tell as long as you let me play along with you.
One of my favorite roles to play is a freshmen in college who forces her Professor to do things that are oh so bad. Her first year away and living on her own, but yet she knows just how to make a man submit to all her carnal needs. At first he kept her after to discuss her failing grades and the possible loss of her scholarship, but he never imagined how the tables could be turned on him. I guess he thought she was innocent, but when she pulled out the 10-inch strap-on, the gasps and ahhhhs, gave way to screams of pleasure. Most men love anal, but are too afraid to admit they want to be the one being fucked. I seem to bring out the best, or the worst in them. It all depends on whose telling this story!
So many roleplays, so little time. I love digging into the box of sins and grabbing up something to fit your needs. Nothing is ever off limits with Kinky Katie, and I love pushing boundaries and breaking rules. Whether it's the babysitter, your wife, or even that mean boss at work, I will be the one to lure them into our web while you whisper your wildest fantasies to me., Anything goes with me. Don't forget to call Katie for all your roleplay phone sex needs at 1 888 314 6639!