Hello there, darling souls! I'm Hope, your enchanting guide to a world where anything goes phone sex. I am into the tantalizing art of captivating horny conversations. Yes, you heard that right—anything goes. Let me be your fantasy as your freaky words roll off your tongue like a whispered secret. It's not just a service; it's an invitation to explore the depths of your desires. The ability to pound my tight kitty! And listen to the wet waterfalls. Think of it as a river flow of cum, dripping down my legs.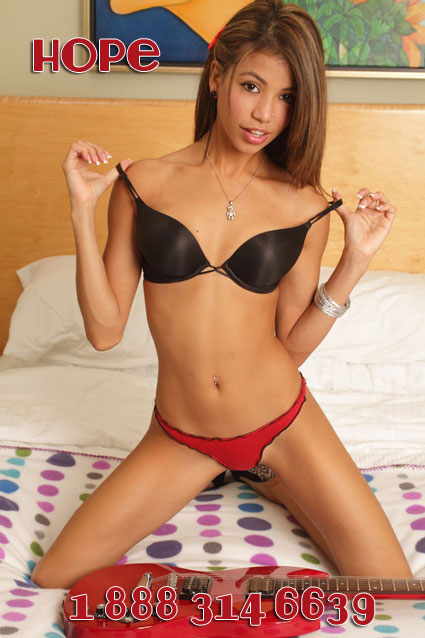 Allow me to paint a picture for you: my seductive voice, darling, is your ticket to an intoxicating journey. It's a voice that promises to soothe your soul and set your hard cock edging! Discretion is my middle name: your secrets are safe with me. Our dirty connection is built on the pillars of confidentiality and trust. Share your desires, your dreams, and your fantasies without hesitation. I specialize in making each call uniquely yours. Whether you crave an intellectual exchange or a more adventurous rendezvous, I adapt to your desires. Your satisfaction is my priority.
Available 24/7: The best part? I'm here for you, day or night. Whether it's a moonlit evening or a bright morning, I'm just a call away. Don't deny yourself this pleasure, darling. Dial my number, and let's embark on a journey where nothing is off-limits. Give in to temptation and call me today. With a kitty ready to be pleasured and squirt for you!
You know that you will be stroking, All night; and all morning long. yummy! You're just stroking,that hard; cock up-and-down. sounds nice, doesn't it? So what are you waiting for? I'm the one to call.Those veins popping out of your hard cock, turn me on; love it. I love when my Kitty just pulsates, yeah, I want your cum, baby. as my Kitty pulsates on your cock and you can just fill that tight grip from my tight Kitty. Please fuck me, stretch my whole and pound me! I cant wait to hear from you, we are going to have so much fun!
1 888 314 6639 and ask to talk to Hope for anything goes phone sex