When I picked up my phone this morning he said "Madeline will you please help me to get my cock hard?" I smiled and said "with the way that I talk dirty and sweet young voice phone sex I just know your dick will be hard before you know it. He hadn't been to my page to see my pictures. I believe that was the biggest reason why he wasn't quite hard just yet. He told me he had been stroking for almost a hour trying to get a rise. He wanted to know what my sweet ripe pussy looked like. And as descriptive as I was it was moments before he started to moan out. I just love telling and showing. So I went to my laptop and sent him some pictures of my petite naked body. He said "Madeline do you like cocks?" I giggled sweetly and said "yes I do! I love all kinds of cocks to be honest. And what I REALLY love is a hard fucking cock. I just love making them throb for me. Regardless of what size they are." He wanted to know what size I love taking in my creamy pussy. I said "seven inches and above. Six inches is boarder line and pushing it. Smaller dicks I love to humiliate and tell how to stroke for me. That and so much more if you can use your imagination." Then he said "Well I have a big 8 inch dick baby with a big fat mushroom head." My pussy started getting wetter by the second. But I had to prove to him how wet i was for him. So I said "do you want me to drop the phone down to my fuck box so you can hear how wet I am for you right now?" He said "are you serious?" I said "oh yes I am not shy when it comes to a man letting him hear how wet my cunt is for him." His dick stood straight up after that. He started to moan and jack and pump that dick.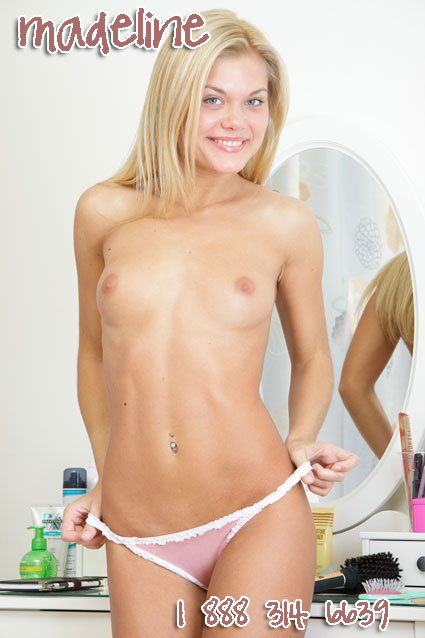 I started to think about how much I wanted to have him right here with me. I wanted to slide my cami and panties off and wrap my baby smooth hands around his pole to stroke. I wanted to feel his big strong hands grope and feel my perky 34 b breasts. I wanted to feel his mouth and tongue roll around my puffy nipples knowing that would make my twat even wetter for him. I imagined feeling his mushroom head move from my perky breasts and around my nipples. I even imagined him fucking my tits. I couldn't also help but daydream about him pumping my mouth as I gave him a sloppy wet blow job. I wanted him to use my throat as his fuck station. I said "ohhhh I'm just so thirsty for your cum this morning." He started to moan out more pumping his shaft. Then he said "Maddie what's the biggest dick that you've ever fucked?" That's when my dirty talking young voice phone sex started up again. I said "So far the biggest dick my pussy has had is a nine inch. But I want to take a even bigger dick. I'm a dirty girl too and love it when a man puts me in his favorite position and pushes his dick in my kinky ass too. Would you be the one to fuck all my slutty holes pleaseeeeee? I just love to beg a man to fuck me." The way that I really pushed him over the edge is when he said "Madeline can you please send me some of your pictures?" I went straight over to my laptop and sent him some that I knew that would make him blow his load for me. I just love it when a dominate man takes control because I love being a submissive pleasing slut and making that dick feel so good it loses all control.
Are you that kinda man? Do you love being in control and sharing your fantasies with this kinky naughty cum loving slut? I have no taboos or restrictions. Anything goes with me. And don't worry if you are submissive and want a cock teasing princess to tell you how to stroke your dick then look no further. Give this young voice phone sex slut a call right now.
E Mail: CutieMadeline4u@gmail.com
Google Hangouts Messenger: CutieMadeline4u@gmail.com
Skype Messenger: CutieMadeline
1-888-314-6639 ask for Madeline