If you know me already you might think it a bit weird that I'm writing about submissive phone sex. I am mostly on the Dominant side for sure, but then there are times .. like now .. when I am so horny and so greedy, I just want to be your submissive dirty slut. I just want to make you happy and offer myself up for your pleasures. I'm not into much pain, but I get so wet being put over your knee with my panties pulled down for a spanking when I need it. Call me your slut, your whore, your bitch. I love dirty talk and I have a very filthy mouth. I hope you won't have to wash my mouth out with soap!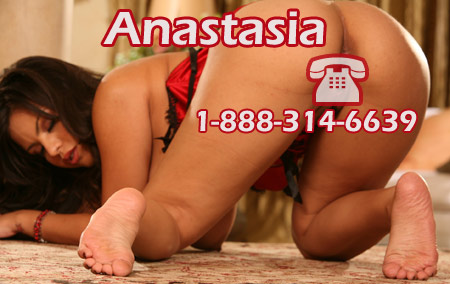 Do you need me to bathe you with only tongue from head to toe? At your command I'll pay extra attention to your toes and if you've never felt a submissive slutty tongue up your ass, you don't know what you're missing. I take direction well, although I have to admit I am too eager sometimes. Patience is not my strong point. Tie me up, tease me, torment me, and deny me over and over. I have nipple clamps, a small leather paddle and vibes for you to use on me when you call me for submissive phone sex.
One of my favorite fantasies where I'm submissive, is when you share me with your friends. Guy friends, girlfriends, it doesn't matter to me. I told you I was greedy and I love all the attention on me! Collar and leash me, display me spread eagle and let everyone see how wet and horny I am. Let them touch me. Pinch me. Use clips and clamps on my cunt lips to hold them spread wide. Fuck me with toys and with cocks. Use my mouth and my pussy and my super tight ass. Turn me into the party fuck toy and I'll be begging for more.
For submissive phone sex call Anastasia at 1-888-314-6639
aim – fetishgirlanastasia