I get so many for calls for Domination phone sex from guys who want nothing more than for me to humiliate them. Are you one of them too? I never thought how fun and hot it would be for me to laugh at losers like you. For real, I've met guys in real life who want to date me or fuck me, who I wouldn't give a second look at. I do laugh when they just won't take no for an answer. They're so pathetic and whiney and begging me to let them take me out. I know you are like that too, because you're here reading this like the rest of them. You see me and your dick gets hard and that's all you think about. But you also know that a girl like me would never give a guy like you a chance in hell.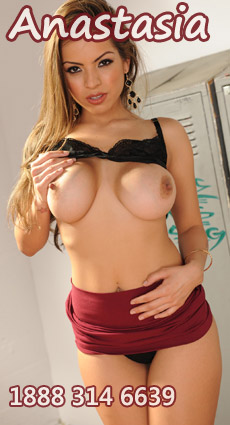 Oh sure I get guys who offer to pay me, but do I look like a fucking prostitute to you? A girl like me has standards and I don't ever believe in settling. It's not just about the size of your dick either, although I am a self proclaimed size queen. Don't ask me what is either, I know it when I hear or it see it. You tell me you're willing to do anything to be with me. Anything?! I order you down on your knees to kiss my ass thru my skirt. I don't care who is watching, if you want to make me happy, you'll humiliate yourself because it's what I want.
If you are wondering how far I would go, don't be surprised when we're at dinner with my friends and their boyfriends, and I tell you to take your pants down to show them the panties I made you wear. Or when I make you take me shopping and buy me the sexiest outfit ever, only to watch me wear it on a date with another man. You knew what you were getting into when you said yes.
Need some domination phone sex humiliation? Call Anastasia 1-888-314-6639
aim ~ fetishgirlanastasia